Author: Su Tiantian
|
Source: International Cooperation and Exchange Office
|
2019-11-03 12:00:00
|
Reviewed by:Song Longhua
|
Views: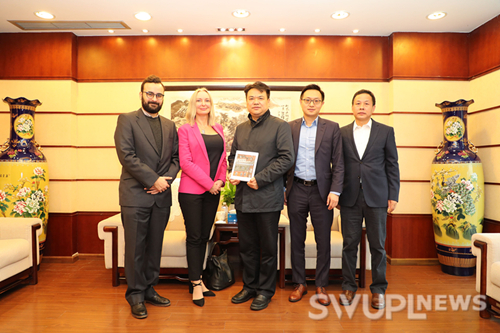 From October 20th to 23rd, a delegation composed of Professor Joanna Lam from Faculty of Law of University of Copenhagen (UCPH), Assistant Professor Xiang Wen from Center of Excellence for International Courts of Faculty of Law of UCPH and Doctor GüneŞ Ünüar visited SWUPL for exchanges. On the morning of October 21st, Fan Wei, Secretary of the Party Committee met with the delegation. Guo Meisong, Head of International Cooperation and Exchange Office and relevant project leaders participated in the meeting.
At the meeting, Secretary Fan Wei welcomed Professor Joanna Lam and her delegation. He put forward a series of constructive opinions and suggestions in the cooperation between the two universities in the field of International Economic Law, especially in terms of research on China Think Tank, resource sharing and academic exchanges. Besides, Fan hoped that the two universities would take the meeting as an opportunity to deepen cooperation and exchanges as well as achieve fruitful research results.
As a founder of Nordic-Chinese Forum for International Economic Law, Professor Joanna Lam introduced related information about the forum held by UCPH in the past two years. She also sincerely invited professors and scholars from SWUPL to attend 2020 Nordic-Chinese Forum for International Economic Law in Denmark.
It was known that the delegation would also have in-depth exchanges in areas of common interest and conduct negotiations on the collaboration between SWUPL and UCPH with relevant experts and professors from School of International Law. Furthermore, Doctor GüneŞ Ünüar, one of the delegation members, would carry out a three-week teaching program in SWUPL as a foreign expert.