Author: Li Yuanqing
|
Source: School of Internatinal Education
|
2019-05-21 12:00:00
|
Reviewed by:Song Longhua
|
Views: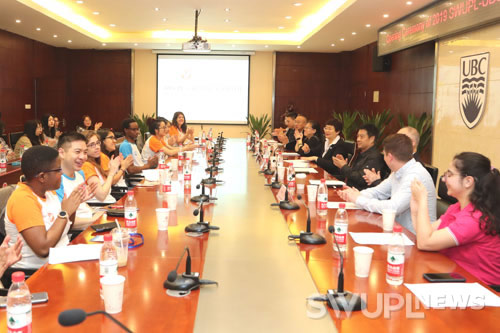 At the scene of the opening ceremony (Source: He Ming)
The Group Photo (Source: He Ming)
On the morning of May 6th, the opening ceremony of the second short-term academic course project between SWUPL and University of British Columbia (UBC) was successfully held in the No.1 Meeting Room of Qing Ye Building. Yue Caishen, Vice President of SWUPL, Zhang Anmin, Professor of UBC, James Leeder, Counselor of Student Exchange Office and Leader of the project, staffs from International Cooperation and Exchange Office, School of Politics and Public Administration as well as Business School of SWUPL concerning this project and 33 students from UBC and SWUPL attended the meeting. Qing Jie, Dean of School of International Education hosted the opening ceremony.
At the opening ceremony, Vice President Yue Caishen, on behalf of SWUPL, expressed his warm welcome to students and teachers who participated in the second short-term academic course project. He reviewed the pleasant cooperation between UBC and SWUPL during the first short-term academic course project. He encouraged Chinese and Canadian students to learn from each other, communicate with each other more and thus promote friendship. Also, he wished the project to be accomplished successfully. Professor Zhang Anmin gave his new definition of "Chongqing" to express his expectation of the success of the project and the performance of the students. He defined "Chongqing" as "double happiness", which consists of happiness of the cooperation between the two colleges in carrying out academic project and the happiness of the second short-term academic course project. Han Wei, Professor of Business School of SWUPL also expressed his expectation for this project.
Moira, a student representative of UBC, who took part in the short-term academic project for the second time expressed her affection for China, Chongqing and SWUPL and believed firmly that she would learn more culture and knowledge this year. Zheng Zhiwen, a student representative of Business School of SWUPL, said that he has always longed for this opportunity for foreign students to know about China and for him to know more about the world. He said he would regard this experience as a glorious page of his life and he hoped this hard-won get-together would be cherished.